La Nuit participates in the Diario Sur debate on the risks of obesity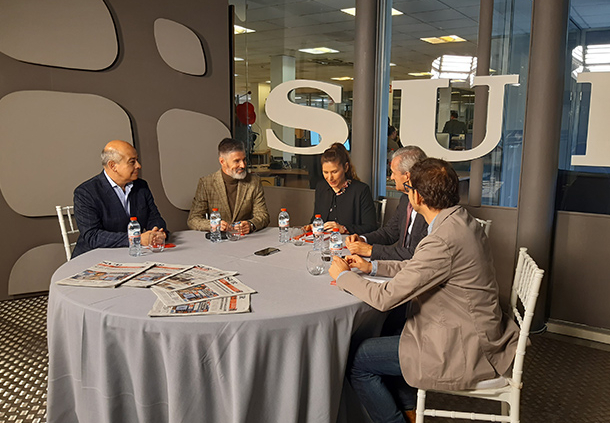 "Getting good rest allows you to lead a more active life. And at La Nuit, we understand that it starts with the mattress."
Last Friday, January 31st, Colchones La Nuit participated in the Technical Panel on Healthy Lifestyle Habits. An event organized by Diario SUR, moderated by journalist Carmen Alcaraz, and attended by Raimundo Artacho, manager of La Nuit; Dr. Diego Fernández, Head of the Endocrinology and Nutrition Department at Hospital Vithas Xanit; Dr. Enrique Glückman, specialist in obesity surgery at Hospital CHIP, and Dr. Javier Moreno, responsible for the Obesity Unit and Bariatric Surgery Unit at Quirónsalud Málaga.
From the beginning, all participants agreed that "obesity is a disease." Raimundo Artacho pointed out that "we are truly facing a pandemic. When we presented our Ingravity Cool mattress at the Medical College, Dr. Tinahones said that one in four Spaniards already has problems with overweight or obesity. We contribute our bit to improve the quality of life of these people, although it is not a panacea or solution."

At this point, the doctors positively assessed this type of initiative because "getting good rest allows you to lead a more active life. And at La Nuit, we understand that it starts with the mattress," as Artacho pointed out.

You can read the news article on Diario Sur.
Read the article of the special #MÁLAGAVANGUARDIAENSANIDAD20 here:
Rest, fundamental for quality of life and disease prevention
https://colchonlanuit.es/wp-content/uploads/2020/02/debate-diario-sur-thumbnail.jpg
450
610
ColchonLaNuit
http://colchonlanuit.es/wp-content/uploads/2023/02/COLCHON-LA-NUIT-LOGO.png
ColchonLaNuit
2023-05-25 06:40:55
2023-05-29 08:38:36
La Nuit participates in the Diario Sur debate on the risks of obesity