What Should Hotel Mattresses Be Like?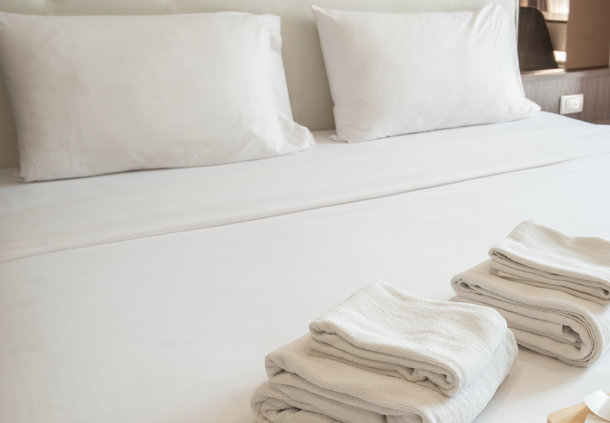 If you are a hotel owner, one of the main questions you'll ask yourself when setting up the rooms is what type of hotel mattresses are best for my business. At Colchón La Nuit, we're going to give you some tips to help you find the best ones.
Hotel Mattresses. Enhance Your Guests' Experience, Improve Your Positioning.
Choosing the right hotel mattresses goes beyond saving costs at the beginning or in their maintenance or replacement. The mattress is your guests' rest and will have a significant impact on a hotel's rating.
It is important that the mattress has the correct firmness for guests to rest well and enjoy their experience at your hotel. Our mattresses are designed to provide the best comfort to your guests while delivering an unmatched value for money.
Memory Foam, Pocket Springs… There are Many Options for Your Hotel Mattresses
There are many options to provide great rest for your guests. From foam mattresses to pocket spring mattresses to high-end mattresses that combine the best of each sleep technology.
Pocket spring mattresses are perfect for your business. The spacing between the springs allows for proper ventilation and the release of body heat, while also providing freedom of movement for both individuals sleeping on it without disturbing each other's sleep.
Its weight also allows for easier handling during room cleaning. Moreover, their durability makes them one of the most long-lasting and resistant mattresses without compromising comfort.
Cheap Turns Out Expensive
In the market, you may find hundreds of low-priced mattresses that can be very tempting. However, we want you to consider that when it comes to mattresses, cheap always ends up being expensive.
A cheap mattress will ultimately incur higher costs as its comfort can significantly deteriorate in a short period of time, leaving your guests uncomfortable and resulting in low ratings for your establishment, reduced income, and the need to purchase new mattresses sooner than desired.
At La Nuit, we offer a great product at a lower price, both in high-end and low-end ranges, ensuring that your guests are more comfortable and reducing your maintenance expenses.
Would you like to explore our range of hotel mattresses? Contact us at info@colchonlanuit.com or +34 952 74 02 64, and we will provide you with all the information you need.
https://colchonlanuit.es/wp-content/uploads/2022/07/colchones-hoteleros-la-nuit.png
452
610
ColchonLaNuit
http://colchonlanuit.es/wp-content/uploads/2023/02/COLCHON-LA-NUIT-LOGO.png
ColchonLaNuit
2023-05-25 06:40:58
2023-05-29 09:03:34
What Should Hotel Mattresses Be Like?