A Malaga-based company manufactures the world's first 'smart' mattress adapted for obese individuals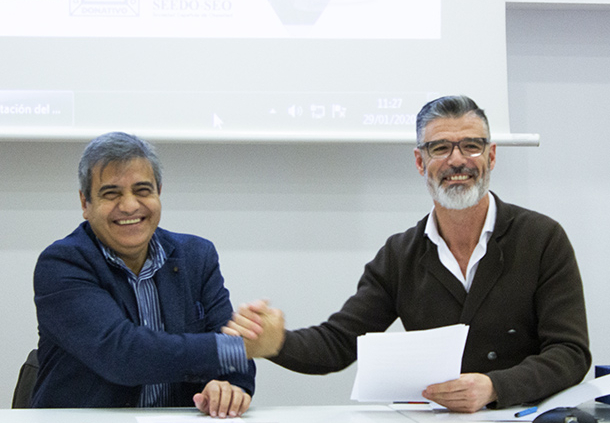 Malaga has hosted today the presentation of the world's first "smart" mattress that, after incorporating the adaptable energex foam for all needs and morphologies, improves the quality of life during the regenerative rest process for people with obesity or overweight, providing independent sleep surfaces and freedom of movement.
Colchones La Nuit, the largest rest product factory in Andalusia located in the municipality of Mollina, Malaga, will donate €5 from the sale of each mattress to the SEEDO Foundation after signing a collaboration agreement with the Spanish Society for the Study of Obesity (SEO).
The manager of Colchones La Nuit, Raimundo Artacho, and Dr. Francisco Tinahones, President of SEEDO (Spanish Society for the Study of Obesity) and renowned specialist researcher in the field of Endocrinology and Nutrition, have presented this pioneering product designed to improve the well-being of people with overweight or obesity during their regenerative rest process.
25% of the Spanish population lives with obesity, a risk factor that contributes to the development of over 30 diseases such as type 2 diabetes or various cancer types, among other severe pathologies.
The benefits of this revolutionary mattress, made with cutting-edge products, microsprings that promote flexibility and an even distribution of weight through energex foam, allow for a happier sleep tailored to the physical needs and morphology of each individual.
One in four people in Spain suffers from obesity or overweight. According to Francisco Tinahones, "a balanced diet, regular physical exercise, stress, quality sleep, and the socio-economic levels of the society in which we currently live actively contribute to combating obesity." For this specialist, "the concept of having a good mattress at home is not trivial as it invites us to sleep better and with higher quality during resting hours, especially among children."
Raimundo Artacho highlights the "ecological gesture of a mattress specially made with natural materials that help achieve the desired neutral temperature for independent sleeping and a logical, respectful, and reconciling freedom of movement."
https://colchonlanuit.es/wp-content/uploads/2020/01/colchon-inteligente-thumbnail.jpg
450
610
ColchonLaNuit
http://colchonlanuit.es/wp-content/uploads/2023/02/COLCHON-LA-NUIT-LOGO.png
ColchonLaNuit
2023-05-25 06:40:55
2023-05-29 08:30:35
A Malaga-based company manufactures the world's first 'smart' mattress adapted for obese individuals