Colchón La Nuit raises 4,000 euros for the Isabel Gemio Foundation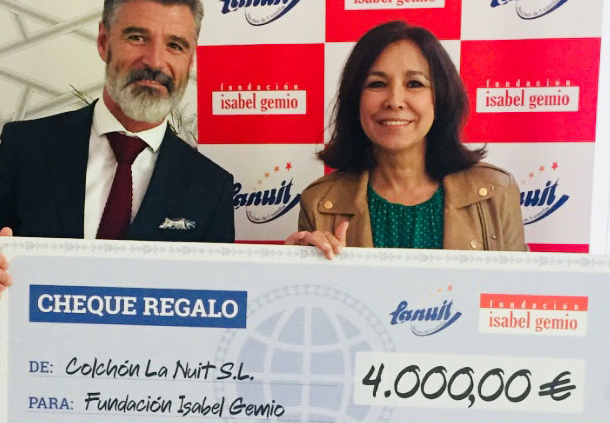 The Malaga-based company Colchón La Nuit raises 4,000 euros for the Isabel Gemio Foundation through the campaign 'Improve Your Nights, Change Their Days'
5 euros were donated for each solidarity mattress of the Sunrise model to promote research on Muscular Dystrophies and Rare Diseases, the main objectives of the Foundation
Specifically, Colchón La Nuit, backed by a trajectory of over 30 years, specialized in the manufacturing of rest products and combining tradition and technology to offer the most suitable product for each customer's needs, decided to collaborate on this occasion with the Isabel Gemio Foundation by donating 5 euros for each solidarity mattress of the Sunrise model for the research of rare childhood diseases through the campaign 'Improve Your Nights, Change Their Days'.
A campaign that, since its start on September 1, 2017, until its end on March 31, has been a great success, raising a total of 4,000 euros that have been donated to the Isabel Gemio Foundation.
The manager of the Malaga-based company Colchón La Nuit, Raimundo Artacho, stated that "we are a company committed to society and we want to reflect it through solidarity actions that help associations, foundations, or NGOs that can improve the quality of life of the most needy families."
In addition, the chosen mattress for this fundraising event is "an ideal model for those seeking adaptability and comfort, providing independent sleep surfaces and viscoelastic foam with thermosensitive properties, guaranteeing total ventilation thanks to the 4D fabric that incorporates the Dry-Technology system," stated Artacho.
Isabel Gemio Foundation
The Isabel Gemio Foundation was established in 2008 with the aim of accelerating research in Muscular Dystrophies, other Neuromuscular Diseases, and Rare Diseases, focusing on biological, pathophysiological, genetic, and therapeutic aspects that can impact the development and application of curative treatments for affected individuals. The foundation also aims to facilitate the exchange of information among experts, patients, and their families, as well as promote the development of pharmacology.
The Isabel Gemio Foundation focuses all its efforts on financing Scientific Research Projects that seek treatment or a cure for Rare Diseases, supporting basic, clinical, and translational biomedical research conducted by leading research groups in our country. The foundation fully or partially funds projects that are part of the CIBER Network.
https://colchonlanuit.es/wp-content/uploads/2018/06/mejora-tus-noches-thumbnail.jpg
450
610
ColchonLaNuit
http://colchonlanuit.es/wp-content/uploads/2023/02/COLCHON-LA-NUIT-LOGO.png
ColchonLaNuit
2023-05-25 06:40:55
2023-05-29 08:23:29
Colchón La Nuit raises 4,000 euros for the Isabel Gemio Foundation